Online
Online surveys:

We provide support for all online surveys using our skills and leading-edge technology. We can conduct surveys on all devices, on PCs or laptops, or using mobile iOS and Android-based devices where appropriate. The questionnaire in responsive design meets all the requirements for mobile surveys. User guidance for those taking the survey is intuitive. Our TRENDFRAGE panel app offers maximum accessibility to our participants. It is possible to have selected questionnaires appear only on mobile devices like smartphones or tablets. We use creative and innovative tools and survey instruments, and will gladly also adapt these to your individual requirements.
Email surveys:
We use address lists in this area.
On-site:
Learn more about visitors to your website and the acceptance of your online presence. In addition, we can test the effectiveness of online advertising media on your website.
Qualitative research:

Acquire new insights into your target groups and their consumer behaviour using qualitative online research.
Examples of use:
Expert panels in a chat
Regular customer forums
Insight communities
Consumer diaries
In-home tests
In our communities or blogs, our moderators address content contributions (questions) to participants in your target group over a variable period of time. Every participant in the blog community answers these questions in detail on a daily basis.
Diaries /communities:
In our diaries, communities or blogs, our moderators address content contributions (questions) to participants in your target group over a variable period of time. Every participant in the blog community answers these questions in detail on a daily basis so that qualitative aspects can be covered.
Ad tracking (contact measurement):
For online campaigns, we offer you not only classic questioning using advertising media contacts but also direct measurement of online advertising media contacts for both stationary and mobile contacts.
To determine the influence of your online campaigns on market indicators, we can survey people with and without advertising contact (comparison group): e.g. brand awareness, ad awareness, recognition, image, willingness to buy and other media contacts. This allows us to determine the impact of the campaign as well as the incremental reach in a media mix.
Panel app with geofencing:
Geolocation is integrated into our survey app and enables unique identification and location of panelists at a previously defined "fixed point". You receive feedback from your customers at precisely the right moment, be it at a POS, an in-store check or when passing by a particular poster site.
Usability research:
Products, websites and apps must be as easy to use as possible for the customer and demonstrate positive performance. If this is not the case, modifications must be made to their usability. Our usability research allows us to pinpoint any changes that need to be made.
Music research:
Continuous monitoring of music format acceptance and reach tracking for radio stations.
Analysis
Tabular counts, target-oriented charts and reports are all part of the package. We use special processes to condense information and to discover or explain correlations between different attributes. For example, when a customer wants to identify the drivers of brand appeal or customer satisfaction in order to establish the starting point for improvement measures.
We use additional special methods for mapping as accurately as possible the importance of the attributes of a particular product or offering , and in so doing, establishing a clear requirements profile. This is done either as a ranking or as a classification into basic requirements, features and exciters.
Correlation analysis
Cluster analysis
Factor analysis
Driver analysis
MAXimum DIFFerence
Kano model
Offline
Face-to-face:
Face-to-face surveys are particularly appropriate for surveys at a POS or other busy locations. We conduct these surveys using tablets.
Eye tracking:

Attention please! – Using eye tracking, we can measure the amount of attention your campaign or individual advertisement is receiving from your target group
How much attention does your campaign attract? Advertising blindness is a major problem in the digital age. Is your advertisement attractive enough to catch the attention of your target group? How long does the user view your online banner, the CLP on the way to work or your ad in print media? Is your message imprinted in the user's mind?
Regardless of location, our eye-tracking methods capture and analyse your target group's gaze behaviour, be it on a PC at home, on mobile devices (smartphones or tablets), in front of the TV, in print media or out of home.
Using up-to-date Tobii technology, portable Tobii Pro Glasses or Tobii Pro Nano, we make it possible to measure the subconscious. It is always amazing to see the degree of accuracy with which users' gazes are recorded.


Every recording provides you with a large volume of quantitative data and enables you to see the results at a glance. Heat maps and gaze plots are just two methods for summarising the valuable insights into your target group: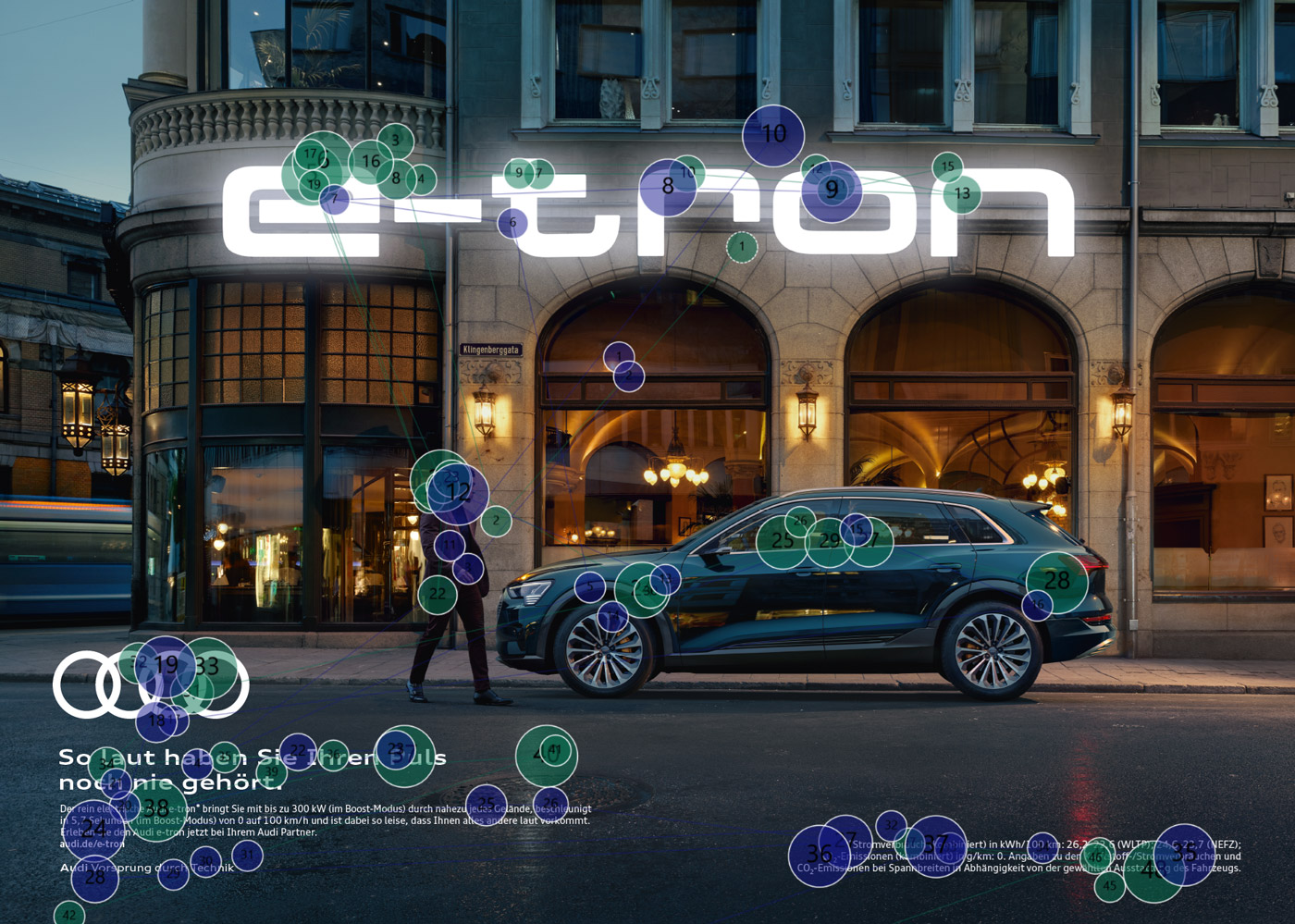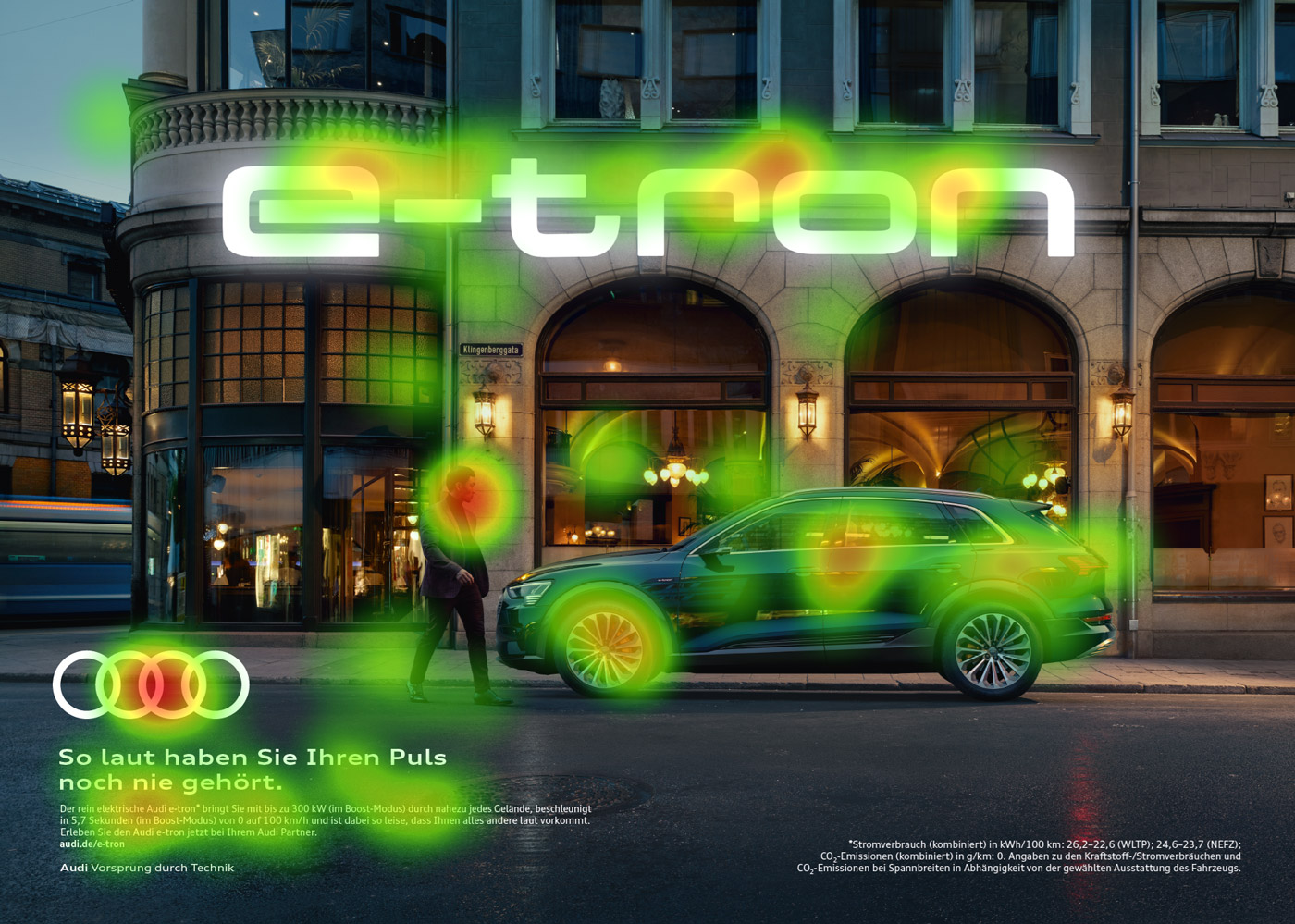 Areas of Interest (AOI):
How long are certain areas kept under observation? Using eye tracking, you can establish how much time visitors spend on your advertisement. To the millisecond. The dwell time can then be compared to other areas. This can be aggregated for all subjects.
Time to First Fixation (TTFF):
How long does it take until the user first notices your advertising? How present are you for the user? TTFF enables you to determine how quickly the user becomes aware
Returns:
A clear picture emerges when the number of repeat contacts is added. Did the user fail to observe the advertisement again after the first contact? Or did they return repeatedly?
In this way, heat maps and gaze plots support quantitative data and can be converted into tangible results. You see not only how individual users behave (live, if required) – you also see how long, how quickly and how often the average user becomes aware.
Focus groups:
Our focus groups allow us to detect unknown dimensions and to provide you with qualitative insights into your target group. Discussion sessions are led by a moderator. We often use focus groups in the early stages of development, when ideas are being developed, concepts created and all possible requirements are being considered.
For extensive, special requirements, we collaborate with the Monheimer Institut MI for Market and Media Research in Monheim am Rhein/Düsseldorf. This partnership enables us to open new options for you, particularly in qualitative research.